While dithering about whether to build another guideboat I created a couple of guideboat paddles.  I became intrigued with these distinctive paddles back when I was a volunteer at the Adirondack Museum.  As a part of my pay ($0 as a volunteer) I was allowed to roam the Museum's collection freely.  I discovered that each guide (and Adirondack Murray} had their own paddle style.  They combined their style with certain features common to all.  I got so engrossed with what one might call folk art that I wrote a book on them.  It is entitled Guideboat Paddles An Adirondack Treasure.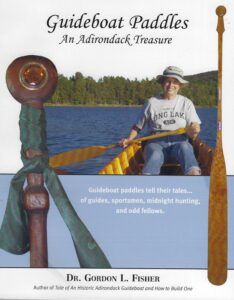 Now you are puzzled.  If the Adirondack guideboat is a row boat, then why a paddle?  This etching, done by Theodore Davis in 1868,  is a clue.  To learn more get ahold of my book.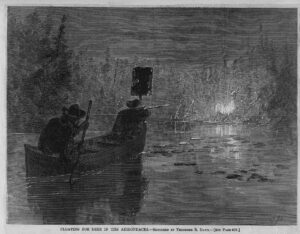 The paddles I am selling are a reproduction of those used by Rueben Cary, a famous Adirondack guide.  Rueben was born in Long Lake and was the caretaker of the Brandreth Estate for many years.  I am offering two Cary paddles for sale, one made of figured cherry, the other of quarter sawn sycamore.  Here is a full length view of them: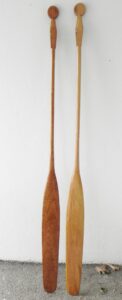 Each paddle is just shy of 6 feet long are hand-crafted from a single piece of stock. The blades are 4 1/2″ wide at the widest point and are 32″ long.
All Adirondack guideboat paddles have a "motif "and a lolly-pop grip.  Each builder had their own characteristic motif.  Here is the motif for the Rueben Cary paddle reproduction done in cherry and sycamore.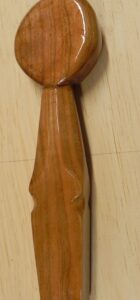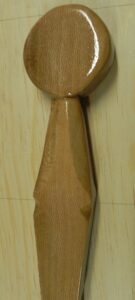 Here are views of the grain of each paddle.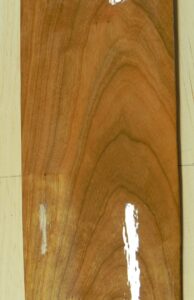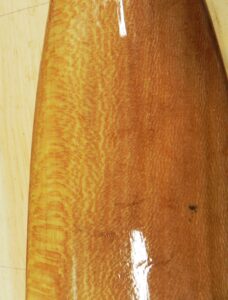 The figure on the sycamore paddle is striking and hard to describe.  I would best describe it as "snakeskin".
Each paddle has five coats of marine spar varnish.  They can be used as a decorative piece or put to work from any self respecting craft.  They will be noticed!
So I am asking $250 for each paddle plus $20 shipping within the US.  As a bonus you get a signed copy of my book on guideboat paddles, a $24.95 value. The price then for a single paddle is $270.
If your would like to buy both paddles the price would be $495 ( I will remove the cost of a second copy of the book and keep the shipping costs the same).
If you would like to purchase a paddle (or two) deposit the amount in my PayPal account (my email is gordonfisher1@verizon,net).  If you would rather send a check, contact me at my email address and I will give you my home address.
Happy Holidays, stay safe,
Gordon