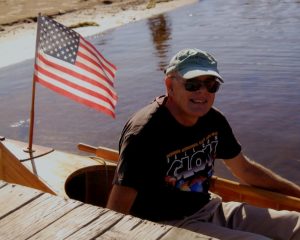 I fell in love with the Adirondacks over 30 years ago when my wife and I decided on the spur of the moment to go camping at Raquette Lake.  We have been going back ever since and have owned a camp on Long Lake since 1989.
I was irresistibly draw to the beauty of the Adirondack guideboat and decided to build one.  I am now building my fourth guideboat.  While a docent at the Adirondack Museum I  heard that others would like to build their own guideboat.  That spurred me to write "Tale of an Historic Guideboat and How to Build One".  I hoped this book would give others the courage and know-how to build such a boat.
I also discovered the wonderful folk art in the guideboat paddles created by old time guides and boat builders.  I found these paddles to not only be strikingly beautiful but to have a fascinating history.  That led to my second book "Guideboat Paddles: An Adirondack Treasure".
You can reach me at gordonfisher1@verizon.net.