Should I start another guideboat?  Do I have it in me to see it through?  This will be guideboat number five so  I know well the trials and tribulations that lie ahead.  But, in the end, there isn't much choice.  The Pandemic has all of us locked down tight.  So I need something to occupy my feeble brain.  So here we go again.
I decide the new boat will be planked of eastern white pine, just as the old time Adirondack boat builders used.  I am unable to source Adirondack red spruce roots for the ribs and stems.  Then I remember that my old buddy Josh sells hackmatack roots.  I met Josh over twenty years ago at the Adirondack Museum.  He was the Museum's first boat builder in the living boat building exhibit.  His job was to build a guideboat in the traditional fashion in full view of the Museum's visitors.  I volunteered to act as a docent, answering as many questions as I could from the visitors.  This freed up up Josh to do the building.  After a two year stint at the Museum Josh moved on to Wisconsin where he established a boat building shop near the shores of Lake Superior.  He soon found that hackmatack trees were being harvested there but the stumps were being left behind.  "Aha! ",  he said.  "I know what to do with those". So he has grown his business selling hackmatack roots to boat builders and others.
Recently he found a forester who needed help felling some enormous white pines whose tops had been blown out by the gales off Lake Superior.  Josh lent a hand and now I'll have a source of excellent planking stock for my boat.
My next step is to get some high quality white pine for my new boat's bottom board.  For that I'll travel into Southern Pennsylvania from Delaware to Hearne Hardwoods.   For woodworkers Hearne is the Holy Grail.  Rick Hearne travels world-wide to obtain the most exotic selection of hard and soft woods,   Customers come from far and wide to find stock to build the most creative furniture, musical instruments and, of course, boats.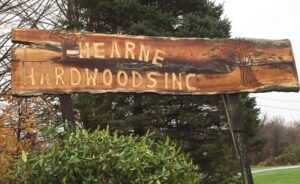 You could spend several days inside Hearne's warehouse and still not see it all.  It is sort of a do-it-yourself lumber smorgasborg,   You may have to climb stairs to find  the bin that holds the stock you are seeking.  The bin holding white pine planks is on the second level.  These planks are not at all puny.  They are usually 12 feet long, 12 inches wide and four quarters thick.  I find two that look  promising so down they come.
I have brought along the bottom board template to make sure I can get a whole bottom board from one of the planks.  I'll need to scarf two half bottom boards together since I would need a plank over 14 feet long to avoid scarfing.  The planks at Hearne go up to 12 feet so I will have to scarf.  Here I check the suitability of a plank using the bottom board half template.  I'll use the entire plank by going back and forth on the 12 foot plank.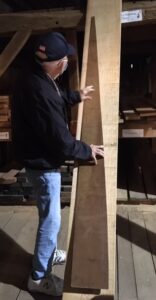 Walking into the warehouse at Hearne is like being a kid in a candy store for a woodworker.  Bins of various species of domestic and foreign wood line one wall.  As I said before, the bins go up two stories. On the floor are large crates full of a miscellany of odd objects that would attract only a dedicated woodworker,  These include burls and exotic wood species of various sizes and shapes.  No woodworker worth his salt will go home empty handed from Hearne.
Next, a gentleman measures your plank and gives you a small slip of paper with its dimensions to take for payment at the office.  While I am paying for the stock it is being surface planed to 5/8″ thick, the final thickness of the bottom board.  Hearne has a wide array of machinery to process raw lumber into finished stock.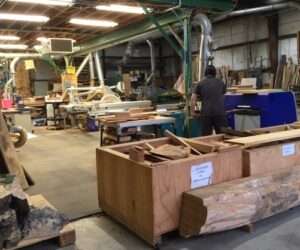 Before I leave the warehouse I notice a distinctive touch that you could only find here.  I have no idea what its fate is.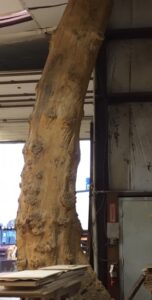 I pay at the office that is charmed by wood from all over the globe.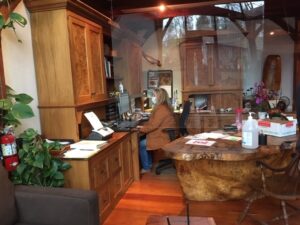 Next time I start constructing the new boat's bottom board and hit an unexpected roadblock.