As you may know I follow the 90 miler very closely each year.  My friend Jon owns the Thankful, a guideboat I built a few years back.  He and his friend Kevin race the Thankful in the 90 miler every year.
They take the race very seriously and train all summer.  By the time the 90 miler kicks off they are at their peak.
Have you ever read "Boys in a Boat"?  It is the story of nine young men who raced in the 1936 Olympics in Berlin.  Against all odds they won the gold medal for racing sculls.  So here are our Adirondack "boys in a boat".  Well they aren't quite boys now but they are fierce competitors.
Their boat, the Thankful, is very much up to the task of winning.  She is no dainty young lass although she may look demure while underway in a pleasure cruse.  Her laminated ribs made of thin strips of wood held together with resourcinal glue are tougher than steel.  Jon and Kevin tell me she is a FAST boat.  We will see how fast.  Her do or die moment lies ahead soon.
The 90 miler rules governing the race seem stacked against guideboats.  First, the oars must be pinned.  This means they cannot be feathered, or turned sideways during the recovery stroke.  When rowing into a stiff breeze with these oars it feels like you are barely making forward progress.  Another item is the rules made me laugh.  It applies to behavior of guideboat competitors while in the Brown's Tract  The Brown's Tract is a twisty, turny narrow stream that must be traversed after you leave the Fulton Chain on your way to Raquette Lake.  The rule states that guideboat competitors cannot stow their oars and use a paddle while in the Brown's tract.  My friend John Homer can see how tempting it is to switch to a paddle while in the Brown's tract.  I failed to mention above that pinned oars are unforgiving.   They do not "give" when they strike a pier or riverbank.  That happened to John while zig-zaging  through the Tract.  One of his oars struck a bank causing an abrupt sideways thrust that nearly capsized his boat.  Clearly, damage was done. Sure enough, the gunnel had a sustained large crack,  John and his partner limped to the Day 1 finish line.  Temporary repairs were made the next morning in Tom Bissell's field before starting Day 2 of the race.
There are many carries on the 90 miler, three of them a mile long or longer.  Guideboat crews  are allowed to carry with them a set of wheels to speed them along the carry.  Here are Jon and Kevin on a roll.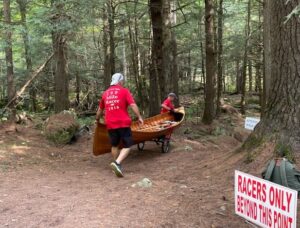 To win the two man guideboat flight of the 90 miler the crew must have it all together, the crew and the boat.  Now Thankful has great bloodlines,  She was an offspring of the Queen Anne, a guideboat prized by the Pruyn family.  They commissioned Caleb Chase, of Newcomb, who was a renowned boat builder of the late 1890's, to build her.   The Queen Anne was a favorite of Anna Pruyn, wife of Robert Pruyn. builder of Great Camp Santanoni   This precious family heirloom was passed down to her granddaughter Susan Pruyn King.  It was in Susan's backyard in Long Lake that I found her.  Right then I determined to build a replica of her.  Thankful is the third guideboat built after the Queen Anne's lines.  She is named after Caleb Chase's wife whose maiden name was Thankful Preston.
Does this guideboat heritage add some karma to this upcoming race?  We will never know but it can't hurt.