A few years back I sold my third guideboat to a fella named Jon.   Jon was the perfect one to take Thankful out of my care.  He was so intuitive about my parting with my creation that it almost felt s though he was asking for the hand of my daughter in marriage.  Jon has a beautiful family and we have kept contact and check in during our summers in the Adirondacks.
Thankful was named after Caleb Chase's wife whose maiden name was Thankful Preston.  Now Caleb created the Queen Anne, the guideboat my friend Susan inherited from her mother.  The Queen Anne was her grandmother's favorite guideboat of the boat livery at Great Camp Santanoni.  The full story of the Queen Anne is in my book 'Tales of an Adirondack Guideboat and How to Build One".
I sent many an hour one summer taking every dimension off the Queen Anne so that I could build one just like her.  Little did I know then that I would write a book on the history of that boat and how to build it.  I still refer to my book as I build my fifth guideboat.
I am proud to say that Thankful is now being entered in guideboat races.  She is not only beautiful but tough.  Her laminated ribs are stronger that steel on a strength to weight basis.  Jon and his friend recently entered a guideboat race in the Saranac Lakes and here is his story,
"Here's a short recap of the race I mentioned.
On may 8th, 2021, Thankful successfully competed in the Round the Mountain Canoe and Kayak Race in Saranac Lake in the 2 person Guideboat division. This is a 10.5 mile race that starts on Ampersand Bay on Lower Saranac, circumnavigates Dewey Mt via the Saranac River and Oseetah Lake and finishes on Lake Flower. The race also features a short portage( or "carry" in the local vernacular) around a lock on the river. It's a classic Adirondack event!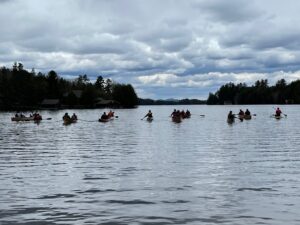 My canoe partner from the last few 90 milers and I have been talking about doing the 90 in a guideboat for a while, being one of the only boat classes we haven't completed the race in. After a solitary group training session beforehand (and a full Covid year and spring on our own!), we showed up ready to learn!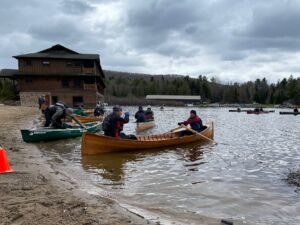 It was a cool, dreary day with some light sprinkles and wind. In other words, a perfect day for an Adirondack race… Social distance precautions were taken by all and the post race awards were subdued but it was certainly nice to be back to racing!
There was one other 2 person guideboat on hand although we didn't get as much of a chance to chat as I would have liked. Our good friend, John Homer, however, showed up to offer some technical, mechanical and moral support and it was great to catch up with him along with some of our other racing friends for a bit before hitting the water.
Since the carry was about half-way into the race, we agreed that we would switch rowing/paddling stations there as opposed to swapping on the water. It's a tricky move involving one racer climbing over the other but we practiced it a few times just in case.
We took off from the starting line with a pair of 4 person canoes and tried to hang with their wake as long as we could. We threaded through a few islands and into the Saranac River entrance by the impressive Bluff island and began to feel the benefits of the current immediately. There are a couple of shortcuts that can be a bit tricky in low water but since the water was up, we took them to try to stay in front of the pack. Just after the Route 3 bridge, my family was there cheering us on which was a nice boost. It was just beyond this point that the fast kayak wave caught up with us. I was sort of surprised that no one else from our own wave had caught up or passed us. I guess we were moving along!
We followed the channel markers of the river closely as this section has a number of submerged rocks and stumps that could end your race very quickly. It wasn't long before reaching the carry, along with another current boost from Cold Brook just beforehand.
The carry is a short up/down around the lock and we opted to just carry the boat upright and get back into the water quickly. Just before the crest of the hill I tripped on a root and fell, hitting my shoulder on the boat on my way down. I took a moment to make sure everything was still functional (on the boat and my body!) before heading down to the water. I hopped in first and grabbed the oars.
It was here that the heavy winds extracted their cost. Oseetah Lake is a shallow, stump filled lake that can really kick up waves when the winds are up and today was one of those days. A solid crosswind kept the waves lapping at the gunnels the entire way across before a respite behind an island and the channel leading to Lake Flower. My partner earned his paycheck here, keeping us on course! A couple more shortcuts and the final push was on. We crossed the finish line at almost precisely the 2 hour mark, my personal goal for the race.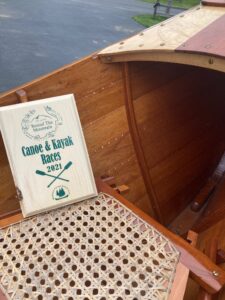 All told, it was a great day on the water in the Adirondacks! My partner and I both agreed that it was a good prelude to our summer of training for the 90. We have a lot to sort out logistically between now and then but it became much clearer exactly what we need to work on. Switching from canoe to guideboat is a lot more than just getting out of one boat and into another!!. But one thing is clear, Thankful is a fantastic, fast craft and is more than up to the test!"
I am one proud father! Let's go for the 90 miler!