It is finally time to pack up and head north for the summer.  Our son Robert has agreed to come down from Massachusetts and pack up the boat and our other "stuff" and drive us to Long Lake.
Fran is apprehensive of this plan because she never likes anything on top of our Suburban.  Her concern is warranted since a tent flew off on the NY Thruway and my lightweight canoes have sometimes taken on the behavior of ultralight flying machines.  No mater how hard I try to reassure her it doesn't work.  Then too it is a 400 mile trip from Delaware to Long Lake.  Anyway here is Robert tying her down.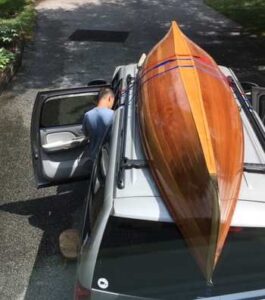 Here she is on top of the van.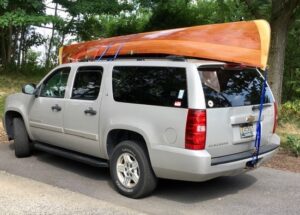 Fortunately I take a spin around the block before we leave.  At about 30 mph there is a dreadful thrumming from the straps.  This will never do.  That sort of noise drives Fran nuts.  I'm sure I couldn't stand it for eight hours either.  What to do?  I decide that tying the straps together should stop the racket.  First I think of string but I don't have any.  So I go with duct tape.  Duct tape has many uses so why not for dampening strap vibration.  I try it and it works.
We arrive safely without mishap.  Long Lake presents a great opportunity for taking photos of the boat.  Here are some of my latest guideboat.  First, looking head-on from the stern.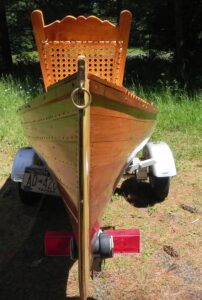 A view looking toward the stern.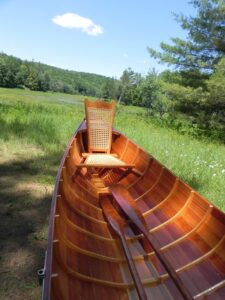 Now the bow deck.  It is made of bird's eye maple and Spanish cedar with a cap of Spanish cedar.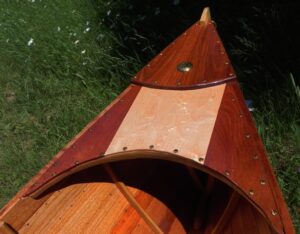 The oars are particularly interesting.  They are made of flame or quilted cherry.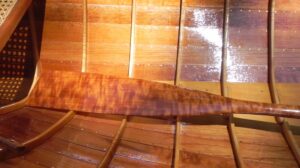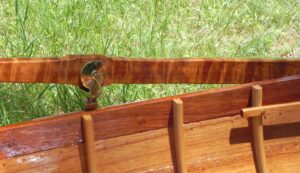 I need to decide on a name for this beauty.  I propose a couple of names but they are rejected by Fran as being not Adirondack enough.  Next time we will have a name and the boat will be officially launched on her maiden voyage.