This week I got an email with photos from my friend Jon.  Jon bought my third guideboat, the Thankful, three years ago.  Thankful was named after Caleb Chase's wife, whose maiden name was Thankful Preston.  I thought it was an unusual name, but an appropriate one.  Caleb was the builder of the Queen Anne, the guideboat I have reproduced now four times.  It is a classic design.  You can read all about the Queen Anne in my book Tale of an Historic Guideboat and How to Build One.
When I advertised that I had a guideboat for sale, I had no idea who would be interested.  I couldn't have asked for a better suitor for Thankful.  It was apparent from the very start of our conversation that Jon understood the effort that had gone into the creation of Thankful.  He promised to take careful attention to her. One reason he wanted Thankful was so that his children would experience the Adirondacks as he had growing up.
Here is the message that he sent with photos of Thankful.  "Here are a few pictures of her on the water and in use over Memorial Day weekend this year.  We live on a channel off the main Seneca river, along the path Hiawatha would have used to get from Onondaga to Cross Lake, the reputed site of his original village.
She never fails to turn heads and my daughters love the way she rides the waves of passing motor craft.  I love the way she pulls and the quiet way she holds a line.
I've made no modifications or changes to the way she was built but am having a yoke carved now so that I may be able to traverse the Adk carries .  I'm looking forward to entering her in the 90 miler and am hopeful that this year will be her year."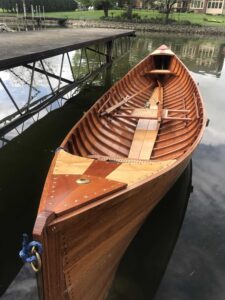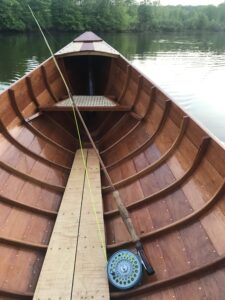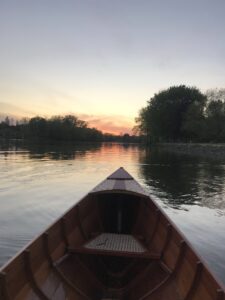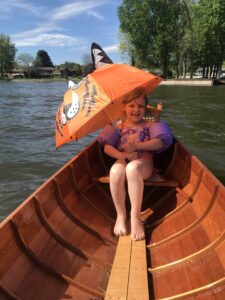 Jon and his family also have a home on Fourth Lake in the Adirondacks so Thankful gets plenty of exercise.
Jon, thanks for telling me all about how my offspring is behaving.  I couldn't have found a better suitor for her.
See you this summer.