My boat has moved along so that it will soon really look like a guideboat.  I'll explain as I go.
A guideboat needs certain attachments to provide for its protection.  One is a stem band, a brass band that wraps around each stem.  It is meant to take the force of a blow (such as running into a dock) that would cause grievous damage to the stem.
Before I can attach the stem band I need to shape the stem into a nice aerodynamic shape.  It was left squared off until now so that I could ensure the stems were plumb and square to the rest of the hull.  To shape the stem, I used my low angle block plane.  It was the only tool that would fit into the space occupied by the stem.
Now the stem band can be installed.  I fasten it at the base of the stem and bend it using the stem as a mandrel.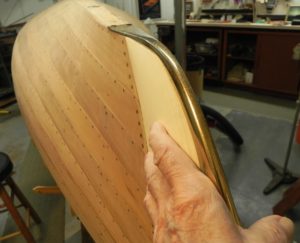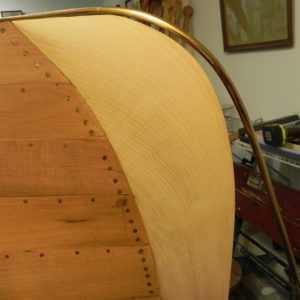 This stem band, fasteners, oar locks and other items were given to me by Diane Shelly, a neighbor in Long Lake.  Her husband, Darwin, was a surgeon who looked forward to building his own guideboat once he retired.  He prepared for that adventure by purchasing enough of the materials to build two boats.  Unfortunately he succumbed to cancer before he could realize that dream.  I often feel his spirit while building this boat.
The band is made of annealed brass and is easily bent around the stem.  The trick is not to drill holes for screws for securing it along its length until after it is bent.  Otherwise the holes would present a weak spot and the band would not bend uniformly.
A nice touch is to add a painter ring to each stem.  A painter is the line that allows one to tie up your boat to a pier.  I got these rings shopping on Ebay.  They are originals from Old Town Canoe.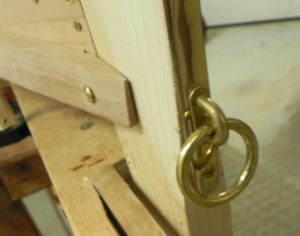 Now to the shoes.  Guideboat shoes are thin strips of wood that lay over top of the bottom board to protect it when the boat is hauled ashore.  I used strips of pine 1/8″ thick by 3/4″ wide.  I ran a bead of Sikiflex bedding compound along the garboard plank/bottom board interface just to ensure that there would be no leaks there.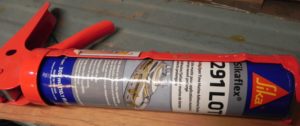 Here is  long look at the shoes.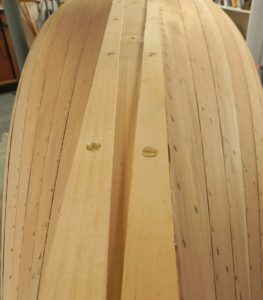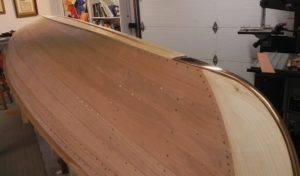 Note that the stem band flairs out at its base to match the shape of the hull there.
These accoutrements add class to a guideboat.  When we add to these the gunwale and decks we have a first class vessel.
Next time we add the gunwales.