Fran and I are just back from Morocco.  Morocco is a country in North Africa, Part of it borders on the Mediterranean Sea and part on the Atlantic Ocean.  Visiting Morocco is like going back in time three or four thousand years.  There are shepherds tending their sheep, and donkeys often provide transport. Then there are the camels in the Sahara desert, beasts of burden uniquely suited for desert survival.
Our first stop was in Rabat.  Our hotel overlooked the Bouregreg River.  This river flows into the Atlantic about two miles or so from our hotel.  I was fascinated  when I looked out our hotel window and saw several men fishing from sturdy rowboats.
It reminded me of the Biblical passage "When he had gone a little further, he saw James son of Zebedee and his brother John in a boat preparing their nets." Gospel of Mark Chapter 1.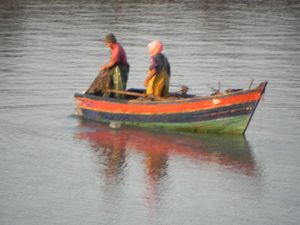 I asked our guide, Zaid, if I might meet with the fishermen and look at their boats.  Now Zaid is a special kind of person.  Having grown up in a very remote part of Morocco in the Atlas Mountains, he can relate to a Moroccan of any background, be it a nomad, Saharan desert farmer, or ladies starting their own cooperative in a small village.
"Meet me at 5" he said  and off Fran and I went.  The fisherman we met, Mustafo, was a jolly fellow who knew lots about our politics as it turned out.  Here he is: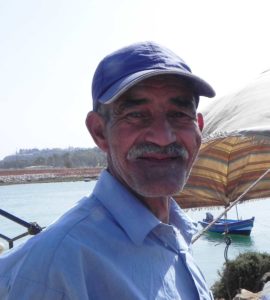 Here we are together.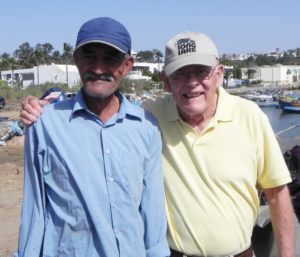 Now the boats were quite sturdy.  They appeared to be wherries since they had a flat bottom and ribs, probably steamed to shape.  Here is a look at the bottom of one: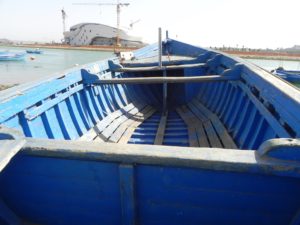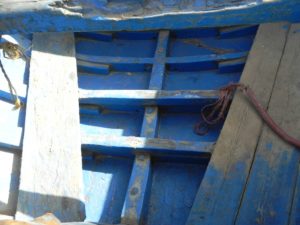 They are sturdy enough to venture out into the Atlantic Ocean.  Here is a photo of part of the fleet.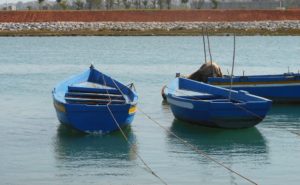 Now  a few of rowboats had outboard motors.  I was told that only the larger vessels used outboards. I only saw the boats being rowed. They were always rowed with the oarsman standing up.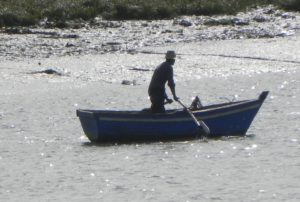 The above photo shows how the oars were made, in two pieces.  This done probably to facilitate ease of repair.  When the blade wears out it is simple enough to bolt on a new one.
I learned that the fishermen usually spent all night fishing,  They catch a variety of fish; whiting, monk fish, sole, and sea brean.  The Moroccan government allows the use of these boats for fishing
So, yes there are work rowboats still in use today.