After a perilous journey Dr. Stephen Sulavik's book on the Adirondack GuideBoat, its Origins, its Builder's, and their boats is in our hands.  And it is a masterpiece! It hits me with a sense of wonder; wonder at how did he pull it off.  Every thread of guideboat lore is brought together here.  His research is meticulous.  Make no mistake; almost a lifetime of devotion to the Adirondack guideboat by Dr. Stephen has gone into producing this remarkable work.
The manuscript was nearly lost forever.  Stephen was such an ardent  researcher that the prospect of gathering just one more guideboat to his data trove was irresistible.  It kept him from calling a halt to research and pulling everything together in a book.  When he died suddenly in April, 2015, it looked like all was lost.  But two gentlemen stepped forward to give their very best to finish what Stephen had started.  They are Edward Comstock, Jr. and Christopher H. Woodward.  I think Stephen would be awfully proud of their's and others hard work.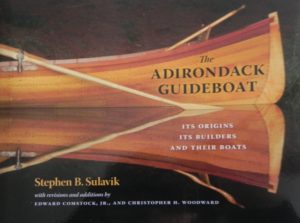 Dr. Sulavik was an extraordinary fellow by any measure.  His son Andrew remembers him as "having an intense desire to teach, an acute mind, an infallible memory, and an effervescent intellectual curiosity."
Here is the reason the book was written, in Dr. Sulavik's own words;
"This book has been written not only to tell the story of this unique and admirable boat, but also to recognize and celebrate the inventiveness of its original builders and the singular culture of their time and place."
I remember once meeting Dr. Stephen at the Adirondack Museum.  I was, and still am, a docent in the Museum's boat shop.  He was busy searching files for use in the book.  We chatted briefly but he was intent on his search.  I had learned from Hallie Bond, then the curator of the museum's marvelous boat collection, that Stephen wanted to enable anyone with an antique guide boat to determine its builder.  That was then a very tall order and next to impossible before Sulavik's book. The short anecdote below illustrated the challenge facing Dr. Stephen.
Many years ago Dr. Sulavik visited Chris Woodward's guideboat shop.  He told Chris and his workers how he had undertaken a project to identify every major guideboat builder and their boats.  According to Chris, the boys in the shop"politely" laughed and wished him good luck".  They as much as said "If the boat doesn't have a name tag calling out the builder you can forget about it."
Indeed his book succeeds in all the author wished for it.  In the first part, The History of the Adirondack Guideboat, guideboat evolution is told in great detail.  This is blended with photos and artist's renderings of the Adirondacks back then.  This section alone justifies having a copy of this book.
In the second part, Guideboats and their Builders, a biographical sketch of each of the major builders is given.  This is followed by the characteristics of their boats all richly illustrated by color photos. Here are pages from the Billings biography.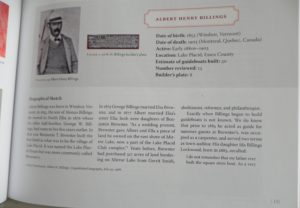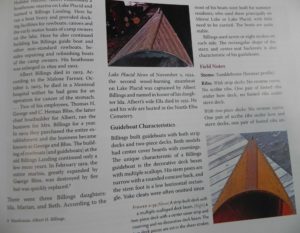 The final part, entitled Guideboat Identification-Who built that Guideboat?, addresses the reason the book was written.  An elaborate photographic decision tree presented.  Each characteristic of a guideboat is presented and how builders modified it to imprint their own style upon the boat.  For example, let's take the decks.  We start with the number of pieces, one or two, then the deck inward shape, straight or deep arc, then the deck cap shape. The builder adopting the particular version is cited.
The book is published by Bauhan Publishing and is 383 pages.  It costs under $40.  It is a gem and well worth having even if you just love Adirondack history.