One of the most famous guideboats ever built was the Virginia.  She was built by Lewis and Floyd Grant in 1903 in Boonville , NY.  Here she is: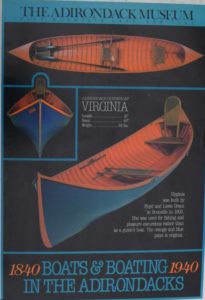 Hallie Bond gives further background on Virginia in her book Boats and Boating in the Adirondacks.  Hallie writes:
"Virginia was the first Adirondack guideboat to have her lines published.  Small-craft Historian John Gardner measured and drew her in the summer of 1993 and his subsequent articles in Outdoor Maine brought the guideboat to the attention of an international audience."  Here is John drawing Virginia's lines.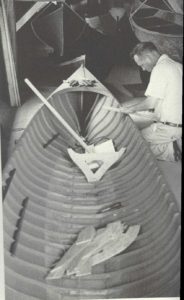 Hallie goes on to say:
"The articles revealed the variation in planking thickness from the 1/4″ garboard to the 3/16″ sheer plank and a 1/2" bottom board.
Virginia has a typical Grant stem profile.   Grant learned to build the slightly tumblehome Long Lake stem profile (curved inward towards the midships), but around 1894 he tipped the top of the stem slightly outward, creating the distinctive Brown's Tract profile.  This was done to eliminate the "podgy" look which resulted from increasing the beam in the ends for more buoyancy.  It also made bending the sheer plank easier because it eliminated a tight spot near the ends of the boat.  Other Grant characteristics include the drain hole in the deck, used when the boat was turned upside down, and the  construction of the seats.  The steam-bent seat back is lighter than a mortised one, and the stretchers for the  seats themselves have been molded to eliminate excess wood.
Virginia was built as a pleasure boat rather than a guide's boat, the third guideboat from the Grant shop in 1905.  She was rarely carried and used mostly on Big Moose Lake.  She was always painted in the colors of the University of Virginia , the alma mater of the young man for whom she was built.  His monogram appears on the stern."
John Gardner was acknowledged the "Dean of small craft".  His book Building Classic Small Craft Volume I and More Building Classic Small Craft will always set the highest bar for any work on building small boats.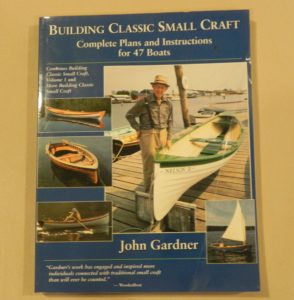 John had a sweet spot in his heart for the Adirondack guide boat for he wrote "Light, tough and durable, the guide boat is the finest woodsman's boat ever built…..a work boat with the finish of a violin and the delicacy of a watch….unexcelled by any small craft anywhere" Outdoor Maine, August, 1960,