Finally the day arrives to head back north to Long Lake.  It seems like a very long time since we were there.  That is mainly because last year was a bummer for me.  I had such excruciating back pain that I couldn't stand or walk.  That's gone now so I am looking forward to getting back on the water again.
We happen to choose the summer solstice to head north.  It has been a cold and rainy spring for New England and the Adirondacks.  That has delayed the arrival of spring up north in some startling ways.  That is evident from the high water levels in Long Lake.  And the trees are showing the bright jade green of foliage that has just emerged.  Just look at these hemlock buds.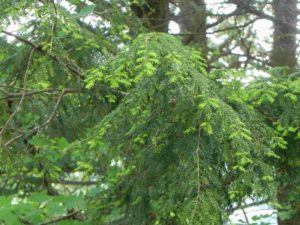 What really astounds me is that the spring peepers are still piercing the spring dusk with their sleigh bell-like peeps.  They stopped peeping in Delaware in April.
My son Stew drove us up.  The first thing the two of us decide to do is get the guideboat out and take a cruise.  The high water means we can get into remote waterways not accessible when summer is in full swing.  Here Stew is manning the oars.  I am in the stern with a steering paddle.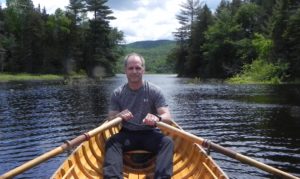 The summer solstice sunset lasts well after nine-o-clock.  That can cause some surprising sunsets.  Here is a photo taken facing north of our dock just after sunset.  A huge cloud over the northern mountain range has been illuminated by the setting sun.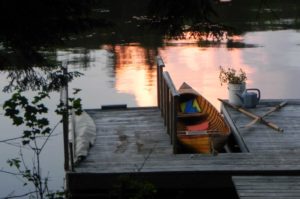 I have learned that the Adirondack Museum has built a boat house on Minnow Pond, a 3/4 mile walk from the main campus.  They will have antique guideboats and canoes for rent there.  What a great idea!  I will check it out and let you know more about it.
Also, a  friend has asked for help plugging some leaks in his antique guideboat built by his grandfather.  I'll let you know how that goes.
Till next time.