Last time we hiked into Minnow Pond, a pristine body of water that the Adirondack Museum has set aside for a wonderful Adirondack adventure.  In the brand new boathouse are stored antique guideboats and other wooden craft that you can rent for a nominal fee.  Here is a view of the boathouse just as the 3/4 mile trail from the Museums main campus arrives at the pond.
The boat house was designed to reflect the Great Camp style of  Adirondack architecture.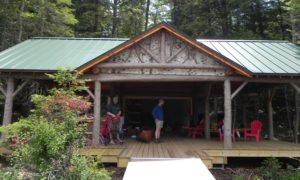 A view of the cedar posts and use of twig architecture.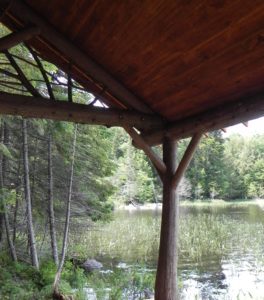 I was looking forward to rowing a Caleb Chase Raider that was probably built in the late 1890's.  I have an affinity for Chase boats having reproduced one of his guideboats that happened to have a rich history.  Raiders were smaller guideboats, about 12 feet long, that were used to get back into remote pond where the fishing was supposed to be better than on the larger lakes.  Here is the Chase Raider.

Alas, when the Chase boat was launched it listed noticeably to one side.  It was decided to give this old girl the day off and launch a Blanchard Raider instead.  Here is the Blanchard Raider.  It was built by James Blanchard of Raquette Lake in the early 1900's.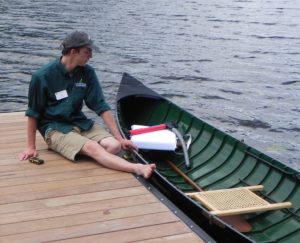 I found the Blanchard boat easy to row and that she tracked well even in a stiff quartering breeze.  Here I am.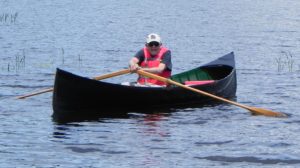 Once  got away from the dock and a few hundred yards down the pond I noticed how pristine Minnow Pond was.  There was no evidence of the "insult" man can perpetrate on Nature's beauty; no waterfront homes or docks.
Next time:  a visit to John Homer's boat shop.